Please Take Note
Our next meeting is our 19th AGM which will take place at 1230 hrs. on Sunday 19 November 2017, at the Royal British Legion, Central Branch, 33 Rodney Street, Edinburgh.
Please make an effort to attend.
--------------------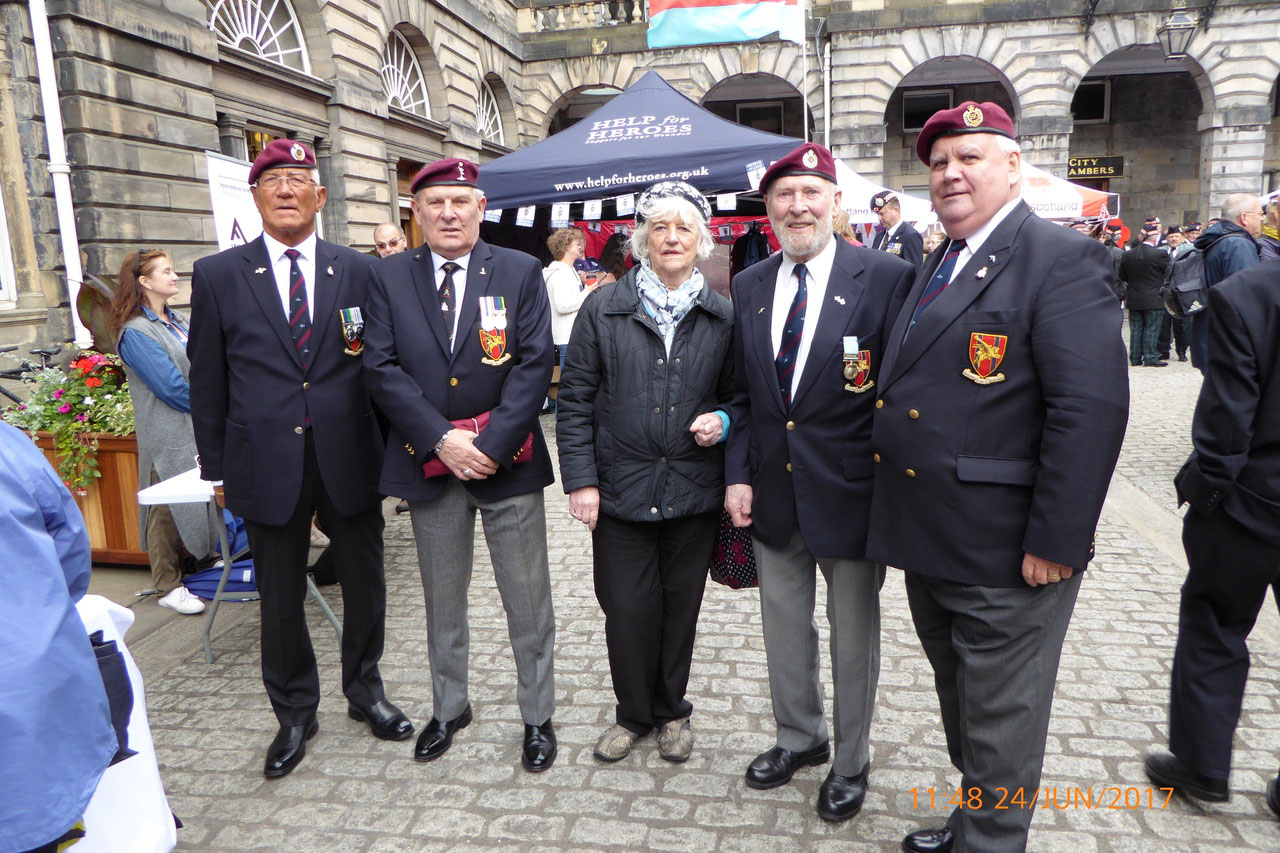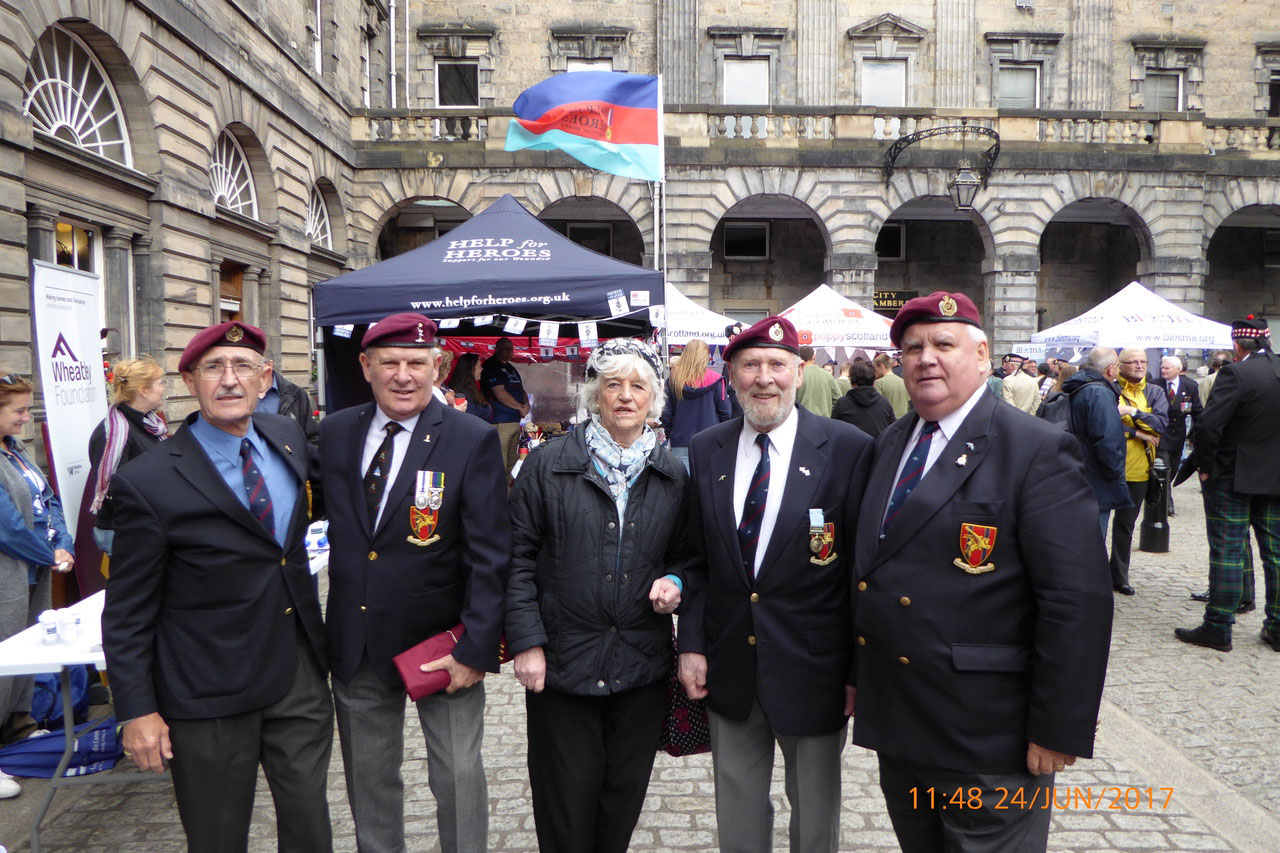 Armed Forces Day Edinburgh 24 June 2017
--------------------------------------

12 April 2017, was the 52nd Anniversary of the battle at Al Milah, Radfan, when WO2 John Lonergan, 300 Para Sqn RE and Sgt. Cyril Atfield, RAPC were killed in action and 5 others were wounded. Former members of 300 Para Sqn RE pictured below, met at the Guards Club, Edinburgh at 12.30hrs. to raise a glass for those who were wounded and for those left behind.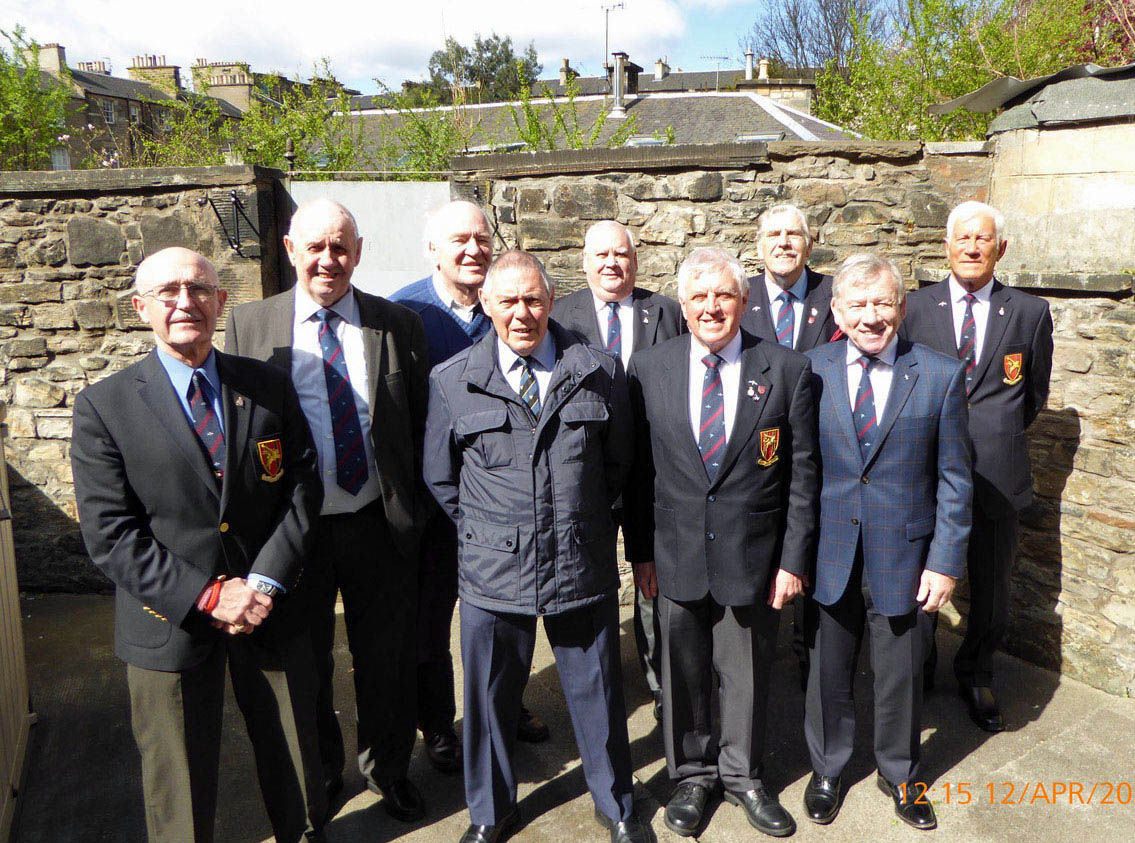 ----------------------------------

Dates of Future Meetings for 2017
Sunday 17 September, R.B.L.S., 33 Rodney Street, Edinburgh.
Sunday 19 November, R.B.L.S. 33 Rodney Street, Edinburgh.
19th A.G.M.
_______________________

EVENTS FOR AEA SCOTLAND 2017.
Please click on the above link.

-------------------------------

General Service Medal 1962 with Clasp South Arabia

In 1965 members of 300 Parachute Squadron 131 Parachute Engineer Regiment deployed to Aden and Radfan. WO2 (SSM) John Lonergan was killed and Captain maclachlainn and Sergeant Earl were seriously wounded during an attack by dissidents on their camp in Radfan. The men of 131 readily volunteered to serve in this theatre, however, they have never been recognised for their service by receiving their GSM General Service Medal 62 with Clasp South Arabia.

Over the past three years letters have been written to the Prime Minister and the Ministry of Defence in pusrsuance of the General Sevice Medal (GSM). The bottom line is that the Government is not interested in awarding the GSM to the Officers and Men of 300 Parachute Field Squadron, Royal Engineers who served in Aden and Radfan in 1965 as they fell short of the qualifying criteria. How on earth could they have fallen short when one man gave his life and two were seriously wounded. How much more were they expected to give. According to the MoD awarding the medal to 300 Para Sqn RE would devalue it.
On 16 September 2016 an e-mail from the MoD Medal Office confirmed that WO2 John Lonergan is entitled to the GSM with Clasp South Arabia and Captain maclachlainn and Sgt Earl are also entitled to the medal. Special Army Orders of 25 July 1966 refers. Why did the MoD take so long to confirm this.
On 21 September 2016, a letter was sent to Theresa May, asking her to wave the 30 day in theatre criteria, however, the letter was forwarded to the MoD.


A letter dated 6 December 2016 was received from the Defence People Secretariat and is similar to those received in the past, the gist of which is former officers and men of 300 Para Sqn are not entitled to medallic recognition.

Letter dated 24 January from Major General RMB Nitch CBE says that former members of 300 Parachute Squadron Royal Engineers cannot be awarded the GSM nor would it be appropriate to use a campaign medal to recocognise the actions of 300 Squadron when the rules apply equally to them as to Regular soldiers.

Further to the above, an article was printed in the Telegraph Newspaper online on 13 March 2017.

On 20 March 2017 an article was printed in The Herald Newspaper regarding 300 Para Sqn being denied the GSM. The article can be seen on page 2 of Pictures. Also, the Editor of the South West News Service has sent a similar article to all national newspapers.

This is the latest from 10 Downing Street
I am writing on behalf of the Prime Minister to thank you for your email of 2 April. I am sorry that you did not receive a full response to your letter of 16 December.

I am aware that you have written to this Office and the Ministry of Defence on a number of occasions, regarding qualification for the General Service Medal 1962 with South Arabia Clasp.

The Ministry of Defence wrote to you on 6 December to explain that they were unable to add anything further to their previous correspondence and to confirm that the Government has no plans to revisit or revise the criteria for the awarding of the decoration. I have attached a copy of their letter for your information.

The Prime Ministerís Office is unable to add anything further to the information provided by the MOD. However, we would like to reiterate the Governmentís deep appreciation of the service given by you and your colleagues in 300 Parachute Field Squadron Royal Engineers.

Thank you, once again, for writing.

Yours sincerely

Correspondence Officer
Direct Communications Unit



______________________

Renaming Ceremony Kingsbury ARC to "Lonergan Lines"
12 April 2016.
Please click the link to view all photographs

http://mod.us8.list-manage.com/track/click?u=4223c93d7a2d2a26bb3e084f4&id=de603cab27&e=bb52c688e6
-----------------------------------



The Birth and Early Years
2 Troop 300 Airborne Squadron R.E.
"The Edinburgh Troop".
By D. H. Thomas.
-----------------------
The History of 131 Commando Squadron Royal Engineers
1947 to Present Day
----------------------